Add to Favorites
The Anatomy of a Thank-You Letter
Oct 08, 2015
There are many reasons why you want to say "Thank-You" to someone. This week, we'll show you how a thank-you letter should go, if you're sending this to someone who has helped your company a cause in any way. We hope you find this helpful and that it inspires you to write your own thank-you letter.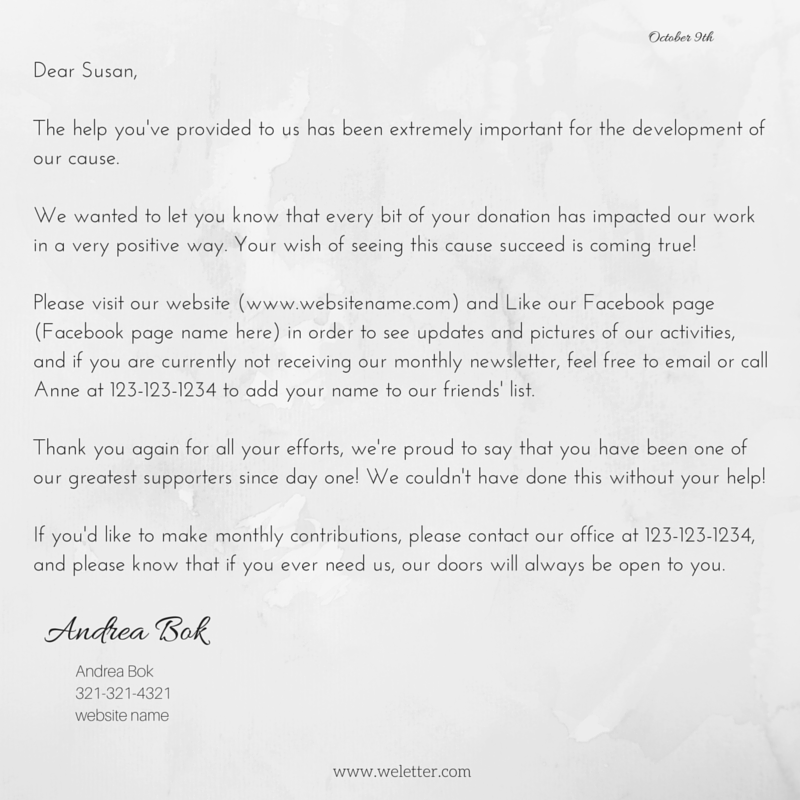 I. Be Personal: Use names, not just "friendly words" (Dear friend, Dear student, etc.)
Example: Dear Susan,
II. Begin by saying why you are sending this letter: Don't just be friendly, be passionate!
Example: The help you've provided to us has been extremely important for the development of our cause.
III. If the person helped you not with their service but with money, say say how that money is being used and/or how it will help you/the cause/the organization.
Example: We wanted to let you know that every bit of your donation has impacted our work in a very positive way. Your wish of seeing this cause succeed is coming true!
IV. Let the person know if there's any way that he or she can see an update of how things are going. (Newsletters, blogs, social media, by calling in, etc.)
Example: Please visit our website (www.websitename.com) and Like our Facebook page (Facebook page name here) in order to see updates and pictures of our activities. If you are currently not receiving our monthly newsletter, feel free to email or call Anne at 123-123-1234 to add your name to our list.
V. Close by thanking them again, and re-assuring them that their help is indeed valuable.
Example: Thank you again for all your efforts, we're proud to say that you have been one of our greatest supporters since day one! We couldn't have done this without your help!
VI. Encourage the person to keep helping you/the cause/the organization, and a final, heartfelt statement.
Example: If you'd like to make monthly contributions, please contact our office at 123-123-1234, and please know that if you ever need us, our doors will always be open to you.
VII. Sign with contact information and/or the cause/organization name.
Example:
Andrea Bok
321-321-4321
website name
Knowing these simple steps can help you write your own thank-you letters, just remember to be friendly and to show that you truly care. Now think of someone who did something nice for you and show them you can by sending them a letter!
Leave a comment